Taking a moment...
hmmm a long moment as blogger seems to have forgotten who I am, it has been so long ;-) ...to call in to my blog at last :) I have not got any fabulous amounts of stitching to share with you to show for the last 7 months (I had kinda lost the will to stitch through lack of time amongst other things) but I have one or two ;-) pieces lined up to show in a couple of postings :)
I shall start in 'December' quite a profound month for me this past year....... I knew I needed to stitch something deep and meaningful to try to stitch it out of me, do you understand that? Mind made up I decided I would start a Brenda Keyes Sampler (more on that another time) which is a big project for me and I want to do it with all the stitchy passion in my heart and my chosen one seemed very fitting.
Until...... lo and behold the very same Sunday night I nearly choked on my cup of tea when I saw that
Tanya (The Sampler Girl)
had posted on her blog that she had a chart called 'Persuasion' in Jan/Feb (2009) JCS Magazine. It was not the fact that she had a chart in the magazine but more what the chart was !! I thought she was psychic and had created this little beauty
ESPECIALLY
for me. Not only the wording but the picture too ( remember I love nautical themes) was so appropriate, I could hardly believe it!
I just had to , HAD to,
HAD
to get this for myself sooooo..... before I had finished the said tea I had my order in to Drema (Neelecraft Corner). I was literally pacing about every morning until this arrived to me from the US, I await the post for any order but I was like a cat on hot bricks waiting for this to arrive.
Then .....oh no agggrrrr , I just didn't have any time to stitch it what with Christmas and New Year, socialising, tiredness, school holidays and all that ( I tried ). BUT I had to wait VERY impatiently, I took the magazine opened at the picture with me every where , in my car , to my Mums, to my bedroom on a night, it was the last thing I looked at before sleep and the first thing I saw when I opened my eyes. finally my day came Monday 5th January !
My children were back at school, I had no end of housework to do after packing up Christmas but that morning after a phone call with somebody which made me feel all the more in need of having to allow things to take their course my priority was thread sorting. Come what may that night was to be the night ;-)
Five nights later 1/1 on my 40ct Lambswool with my own choice of threads and a very dark haired lady (ME) on the picture , I framed what must be my absolute favourite piece/ design that I have ever stitched. It is very tiny only 1 3/4" or 4.4cm wide and delicate and I couldn't believe my luck at finding this perfect sized square frame for it.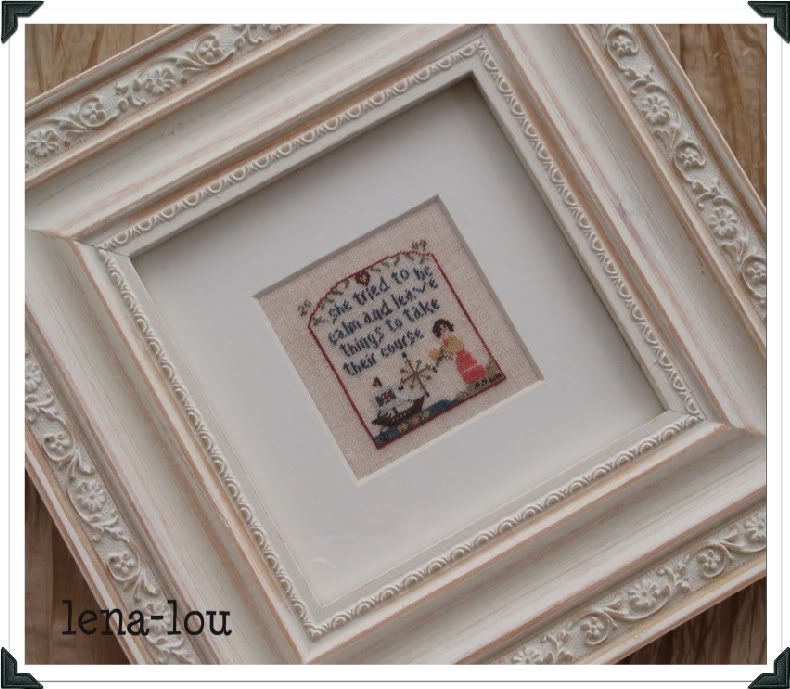 When I look at this design it really does make me slow down, THINK about believing in myself more and to try to be calm about things even if it only last for a few moments as I am one of those people who want the answers to the questions of life asap and find it hard to just wait things out. I thoroughly enjoyed stitching this , every stitch came from the heart and I was rather sad it finished but equally loving that it is :-))) Thank-you Tanya for creating the original.
Have a Happy Easter everyone and thank-you to the lovely
Margaret
for honouring me with an award and to the ladies who have missed my little bits of stitching on my blog :-))
P.S. For any British girls who are interested the frame with mount was from Tesco and it also comes in a larger 8x10 picture size which I have got too :-))
X HAPPY EASTER TO YOU ALL X