All is calm... all is bright...

Has Santa been to your house ??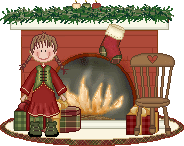 Like you all we have been busy and getting ourselves ready for this once a year visit from the man himself :-)) I thought you might like to share a little into a glimpse of my home at Christmas?? ........ OK :) then lets begin :) ........ We put up our wreath just so he would know he is welcome here......
We decorated our fireplace which we did not once..............
but twice .........as Marsha our cat decided to have a smashing time re-arranging everything , sooooooo one broken Santa and a broken clock later :( This is what it looks like now !! I think it looks so much better , a bit more homespun even with a clock that no longer works , oh well I have an excuse at last for being late ;-)))  
We decorated a little wintery corner in our room ............
Then the fairy was put into position on top of the tree.........
My DS and DD hung their beautiful stockings in their bedrooms... but I shall show you them here because I know you would like to see :-)))
I cannot take the credit for these as they are my Mums beautiful work for her Grandchildren :-))) they are lined and have many special details to them with hand stitched cording and are finished as perfect as you could get. I think my Mum has got the foot shape in brilliantly which is such an important feature. I really hope she does me one for next year and I think my sister Su has got her order in as well ;-)))
A little more detail, first we see my DS's stocking...
now here is my DD's ....
The traditional drink and mince pie was left out for Santa along with carrot for the reindeer ....... as you can see Santa has been and he left his snow dust behind him :-)))  
Another stitched and finished piece by my Mum for my DD and DS,  her grandchildren :-)) You should see those French Knots IRL and the little stitched buttons with their tiny trees !! It is stunning :-)) Infact look what I have found here :-))
He left me a gift box just like himself under our tree just so we would know he had been to leave the presents ;-)
Then finally we started to decorate our table in the Dining Room ready for our Christmas Dinner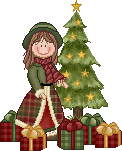 WITH MUCH LOVE TO YOU ALL XXX